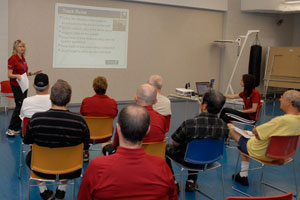 The overall objective of these evidence-informed Guidelines is to improve the clinical practice of Cardiac Rehabilitation (CR) through knowledge translation, knowledge transfer, and the professional development of health care professionals working in the field of CR, cardiology and chronic disease. This is the only resource needed for clinical and management areas of cardiac rehabilitation and chronic disease management.
Guidelines for the clinical practice of those with cardiovascular or chronic diseases. Includes guidelines for the treatment of lipids, hypertension, smoking cessation, diabetes, physical activity, stroke, CHF, as well as nutrition, stress testing, exercise prescription, psychological services, program management, in-and-out-patient services and much more. There is an all new section on performance measures. Enhanced information on returning to work, special populations, basic science, epidemiology, chronic diseases/co-morbidities, future research needs, and attaining a consistent standard of care. A MUST for newer cardiac rehabilitiation programs.

For information and to purchase the guidelines, please visit the CACPR site.